I grew up in Wisconsin, which means a few things:
I can only cheer for the Packers.

My car automatically stops at tiny roadside cheese shops.

I eat my apple pie with a slice of that cheese: cheddar, the sharper the better.
There's nothing so delicious as a slice of my mom's Dutch apple pie, warmed slightly, with a chunk of sharp cheddar cheese on top. It's a thing in Wisconsin. Don't knock it 'til you try it!
Maybe it's just the taste, which is surprisingly, mouth-wateringly good. But it's possible there's also an element of nostalgia and love wrapped up in each forkful. 
Food customs and traditions are core to families. I recently realized that in all the years I've been eating my mom's apple pie, I've never learned how to make it. So I cornered my mom last year and asked her to teach me. We floured up my countertop and went to town, and we had a great time.
Now, my mom is healthy and well. God-willing, she's not going anywhere anytime soon. (And it turns out her favorite recipe is just Betty Crocker's!) But there's a technique to making the perfect pie, and Mom has perfected it. I asked to learn it from her because I want to be able to bake one of those pies for my own family if I want to. I want to carry on that tradition for years to come, and I can't do that if I don't make a point to learn from her.
I know that every family has similar food customs and recipes that are worth preserving, so I asked my colleagues about some of theirs recently.
"Many of mine are connected to camping, because that's how we vacationed growing up," says CEO Christy Boysen. She quickly starts rattling off examples, from her sister Katie's famous olive dip to the venison marinade her family's used to flavor her dad's hunting bounty for decades.
Operations Manager Katelyn Larson comes from what she calls a "marathon dinner family."
"Eating is an event. My dad's the kind of person who can have six dishes going and still be the life of the party," she says. "Somehow he can time everything perfectly! I don't know how he does it."
At Katelyn's house, some favorites are Pepper Roast–a sort of prime rib, marinated in black pepper marinade. "It's so acidic that you have to put it in glass because it'll eat through anything else," she says.
All this food talk had us wondering about the intersection of food and legacy planning, because that's why we're here, after all. So here are a few fun ideas we've found for preserving family recipes in beautiful–and fun–ways. And keep on scrolling for the family recipes we've mentioned–and a few extras.
Fun Ways to Preserve Family Recipes
Just Write Them Down
You really don't have to get fancy here! Passing on your prized recipes might be as simple as pulling out your favorites and hand-writing them on some recipe cards–or putting them into a binder or notebook–for your family.
Clean With Them
On Etsy, you'll see a plethora of small businesses that'll make tea towels adorned with a favorite family recipe. How cute would it be to display a relative's handwritten recipe–complete with splatters from all the times it's been used? Celebrate a favorite dish with a heartfelt and affordable piece that can be useful, too.
Decorate With Them
I have a friend who made her late grandmother's handwritten INSERT NAME HERE recipe into an art canvas she's hung in her kitchen. Now each time she cooks, she has a little bit of her "Oma" there with her. (That's her photo above!) 
Consider Publishing a Cookbook
There's a photographer in the Twin Cities who creates beautiful custom cookbooks. Heirloom Lab offers a number of packages–from simple to elaborate–and will come to your kitchen to photograph your favorite dishes. Then they'll create a gorgeous heirloom-quality, bound book that'll last forever.
No matter how you choose to capture your recipes–or gather them from loved ones who've gone before you–you'll be glad you did it. Without further ado, here are some favorite recipes for you to try…or print on a towel.
Christy's Sister's Olive Dip
16 oz. cream cheese, softened
Garlic salt
1 large jar green olives, chopped
Mix cream cheese until softened. Stir in olives and garlic salt to taste. Serve with Sun Chips or Ruffles potato chips.
Mo's "Rye Chip Thingies"
Rye chips (such as Pinah's or Gardetto's)
Shredded Swiss cheese
Mayonnaise
Garlic salt
Sweet onion
Set your oven to broil. Peel the onion and grate it with a cheese grater into a large bowl. Add a handful of the cheese, and enough mayonnaise to moisten it all. Throw in some garlic salt to taste. Top the rye chips with the mixture, and place them onto a cookie sheet. Broil until they're bubbly and hot; they can burn quickly, so keep a close eye on them!
Christy's Venison Steak Marinade
¼ c. soy sauce
2 T. vegetable oil
2 T. Worcestershire sauce
2 t. real lemon juice
4 T. wine vinegar
1 clove garlic, crushed
1 lb. venison steaks 
Mix all the ingredients together, and place steaks into the mixture. Marinate, stirring every day, for 2-3 days. Then grill and enjoy, preferably next to a campfire!
Katelyn's "Pepper Steak"
2 8-oz. grass-fed beef filets, sirloin or ribeye
2 T. whole mixed color peppercorns
pinch coarse sea salt (to taste)
2 T. butter
1/3 c. red wine, cognac, or brandy
3/4 c. vegetable stock
4 T. heavy cream
Dry your steak well on paper towels and allow them to rest at room temperature for 20 minutes.
Crack the peppercorns onto a plate and sprinkle with a good pinch of sea salt.
Roll the filets in the peppercorn and salt mix, including the sides.
Add the butter to a cast iron skillet over medium flame.
Use tongs to add the filets. Sear until golden brown (about 4 to 5 minutes on each side for medium rare). Transfer to a plate and loosely cover with aluminum foil to keep warm while the juices redistribute. 
Make the Sauce (Optional)
Add the red wine, cognac, or brandy to the pan with the steak drippings. If using cognac, you can carefully ignite it at this time (for about 30 seconds or so) and then add the stock. Reduce by half, then stir in the cream. Continue cooking and reduce for a few more minutes until thickened to your liking.
Taste and adjust seasonings with more sea salt and spoon over the steaks.
Katelyn's Chocolate Eclair Cake
1 c. water
½ c. margarine
1 c. flour
4 eggs
2 small package instant vanilla pudding
3 c. milk
8 oz. cream cheese
12 oz. Cool Whip
Hershey's chocolate syrup
Preheat oven to 400°. Boil water and margarine together. Remove from heat. Stir in the flour and then the eggs, one at a time, and beat well. Spread in a greased jelly roll pan. Bake until browned, 20-30 minutes. (It will be wavy). 
Soften cream cheese at room temp (may use microwave, if you're crunched for time). Prepare pudding with milk, cool, and whip in the cream cheese. Spread on the cooled, puffed layer. Top with Cool Whip. Drizzle chocolate syrup over the top, and refrigerate until ready to serve.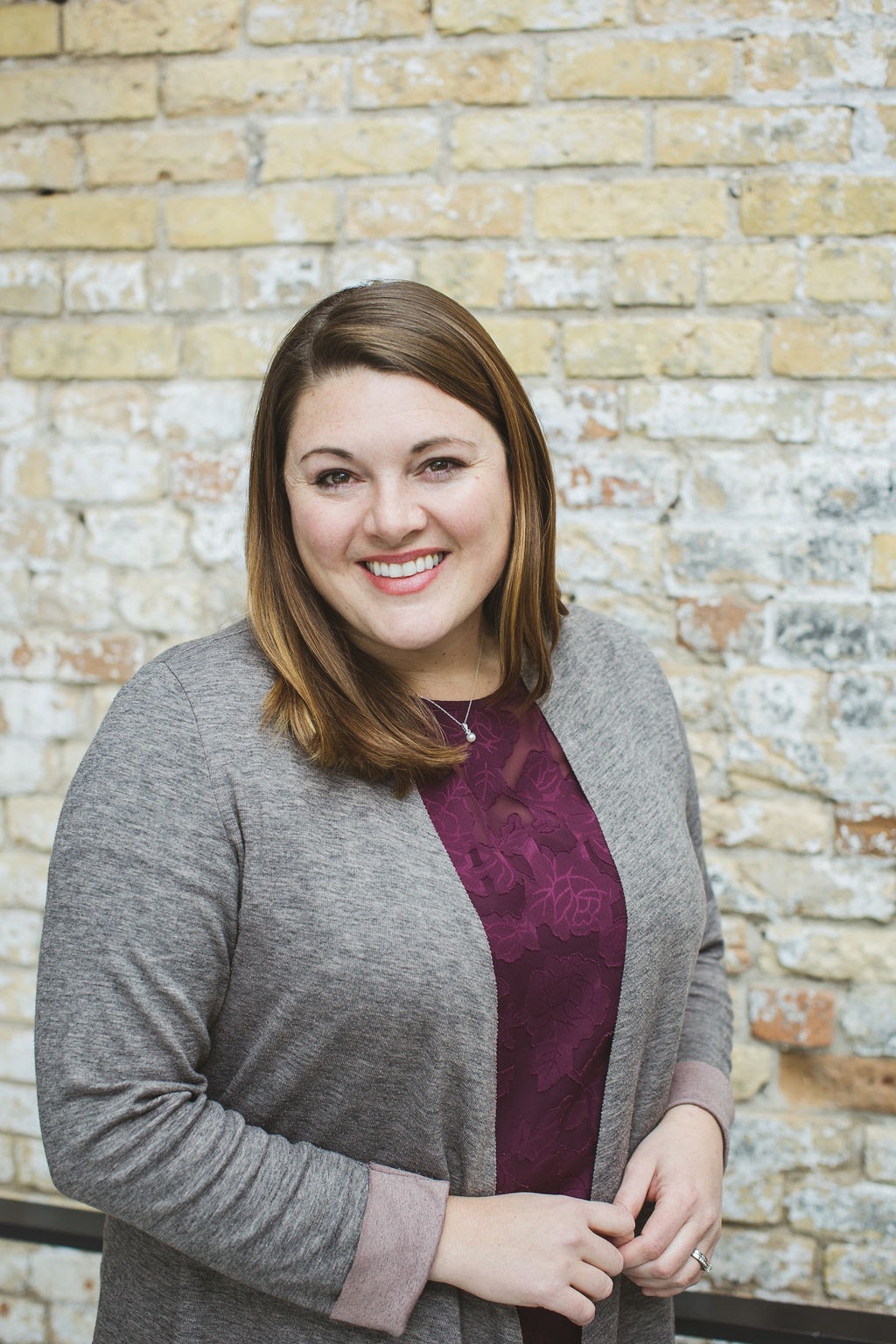 Monique Kleinhuizen
Co-Owner and CMO
Monique has spent 15 years in the nonprofit sector, handling marketing and communications at a megachurch and a university. She's a wordsmith, and also a seasoned entrepreneur and creative who thinks "outside the box" about where Apex could go next.