What is Our Mission?
Our mission is to help people maximize their legacy potential.
We help individuals and families leave a legacy that represents their values AND maximizes gifts to both charities and loved ones.
We help charitable organizations increase their impact beyond their wildest dreams through the generosity of their donors.
We bring together like-minded estate, financial, and nonprofit professionals to create synergy, share resources, and help donors make an incredible difference in the world.
WHO ARE WE?
Apex Legacy Consultants are a collection of passionate leaders who believe that normal people—in partnership with the organizations they believe in—have the power to make a huge difference in the world. Thoughtful legacy planning can celebrate someone's lifelong values and passion, honor loved ones, and maximize financial assets. We are:
Educational
We understand how complex legacy planning can be! We understand tax laws and how to apply financial concepts so they reflect your unique vision. We'll guide you through every step and decision to help you leave a lasting legacy.
Trustworthy
We'll put you at ease by being true to our word and consistent, helping you understand and make the most of the latest legislation and planning tools. We'll keep your information confidential, and you can ask us anything!
Collaborative
We are your partner, working toward a greater good. We hope to be a resource to you, but when we don't have the answers, we'll find them!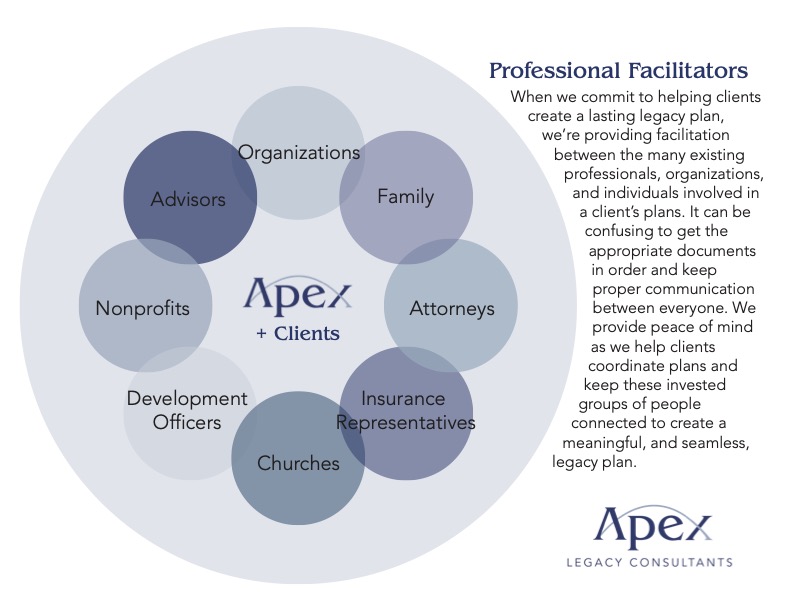 want to learn more about the apex team?