John and Carolyn rattle off their family tree with pride. 
They name their kids and grandkids–including each one's quirks, hair color, and career path–and then launch into another family tree of sorts.
They name, in detail, the educational institutions that have been a part of their lives. There was the pioneering women's college, Milwaukee-Downer College, where Carolyn's mother attended long before it was common for women to pursue advanced degrees. Carolyn, her sister, and eventually a daughter, attended there, too. Carolyn spent much of her career directing the liberal arts program at Concordia University, while John served in several roles at the University School of Milwaukee (USM). 
Their four kids come along with a litany of colleges they've attended, schools they've taught in, and where their own kids now attend. It becomes clear that for this family, the educational process, and the beloved institutions that provide it, are a core part of life, as essential to their well being as eating or breathing. 
"Education!" Carolyn says at one point during our interview, raising her fist for emphasis. "We are very committed to classical education: citizenship, art, letters, and science. We are so deeply dedicated to it." But for years, they thought that their careers–and the countless students they've impacted along the way–would be their main contribution to society. They didn't realize they could leave a significant financial legacy, too. 
They first came across the Apex legacy planning program when they began asking USM whether the school had anything a "memorial garden" like the pair had seen at Lawrence University. They thought a similar garden could create a unique and beautiful space for USM alumni and faculty–themselves included–to be remembered after they're gone. The discussion about their eventual burial and memorial wishes led to questions about their will and wider estate plans, and the USM advancement team connected them with Apex. 
The school had recently launched a legacy planning partnership with Apex that would bring USM supporters through a comprehensive, personalized planning process designed to help them think through their goals and values, organize important documents, quantify their assets, and put together a plan for supporting their loved ones and favorite causes–including the school–through estate giving. After their first meeting with their legacy consultant, Christy, the lifelong educators were floored.
"Everything was new. I had no idea what to expect, and I was surprised we could give away so much money," John recalls, adding that he and Carolyn have always stuck to conservative spending and methodical investing. In a large family with two modest educator incomes, a run-of-the-mill home, and normal investments and life insurance, he was surprised to see their total net worth. "We're the millionaires next door!" he says with a laugh.
Carolyn was more surprised–pleasantly so–by the education involved with the legacy planning program. As the couple told Christy about their assets, she was able to create customized visualizations of what their estate plan could look like with strategic investment and charitable giving tools incorporated. They got to think through how much they wanted to give to their kids and grandkids–and how and when they wanted that to happen–as well as their charitable goals. And as each decision was made, they could see flowchart illustrations of their long-term impact–with their actual numbers and estimated fund performance plugged in. 
"I had been in development for the university. What blew my mind was the charts! These wonderful visuals. Christy could map out many different scenarios," says Carolyn. "We would say to her, 'let's tinker with that piece' or 'we don't like that aspect so much.' She'd go to her computer, and whoop! Here comes a new chart!" 
The couple admits it was strange, at first, to realize that–through non-cash and estate giving–they actually had enough to make a much more significant gift than they had ever thought. Once they got over that realization, they moved on to the fun of imagining what they wanted their impact to look like. Did they want to support the zoo, theater, the arts, the poor, or something else entirely?
"Goodness it was hard, and shocking, to try narrowing it down. We had to answer the questions 'What do we stand for?' and 'What have we spent our lives trying to do?' It became clear to us that it's always been about justice and truth and beauty,"  Carolyn says. "We're working for a society that is informed by the liberal arts. That is a vague term, I guess. There are technical words to describe it, but the result is thoughtful, problem-solving citizens for the world." 
She says the planning process brought on significant conversations for the couple. Between meetings with Christy, they spent time looking back at the experiences they've shared, discerning the most significant moments and themes. COVID-19 made them notice the widening gap in education access, and how some families were coping just fine with extra time at home–while others struggled to keep up. They pinpointed the organizations where they wanted to get involved. From there, they were able to mix and match the specific tactics that would allow them to make the greatest difference for their heirs and schools they love. They landed on a Charitable Remainder Unitrust (CRUT) and a Donor-advised Fund (DAF) in addition to outright bequests. 
"We looked at our lives. It's been good for our marriage to put our heads together, to remember what we've been through," Carolyn says. "It makes a fitting closure to the last decade of our lives."
When asked what they want their legacy to be, John and Carolyn are quick to look back with gratitude at their careers and their beloved children. Three of the four have also pursued careers in education.
John pauses a moment before adding, with a grin, "We want to change the world. We want to make the world this beautiful, enlightened, more humane society. Our lives have been devoted to that, but we realized that two people can only do so much. We sincerely hope society's pendulum would swing in the direction of the humanities and history. We hope that what we've done helps to sustain the liberal arts and that kind of learning. By giving scholarships to the schools that helped us, they will continue developing individuals of conscience who positively impact the future and the world."
Apex Legacy Consultants offer consulting packages and legacy planning support for people at every age and stage of life, and with any kind of estate–no matter how eclectic! We'd love to walk with you as you create a plan that fits your unique family, situation, and philanthropic goals.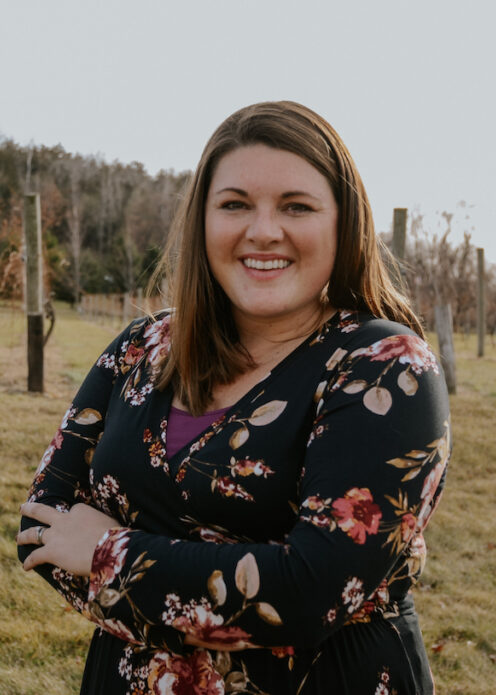 Monique Kleinhuizen
Co-Owner and CMO
Monique has spent 15 years in the nonprofit sector, handling marketing and communications at a megachurch and a university. She's a wordsmith, and also a seasoned entrepreneur and creative who thinks "outside the box" about where Apex could go next.